Welcome to the ADN
The Avoidable Deaths Network (ADN) is a diverse, dynamic, inclusive and innovative global membership network dedicated to avoiding human deaths from natural hazards, naturally triggered technological hazards and human-made disasters in low- and middle-income countries.
The ADN's mission is: to provide a dynamic forum for experts, practitioners, researchers and organisational partners to identify and promote theoretical and practical solutions to reducing avoidable deaths.
The ADN is led by the Universities of Leicester and Kansai. The ADN was founded by Dr. Nibedita S. Ray-Bennett (Associate Professor in Risk Management, University of Leicester) and Dr. Hideyuki Shiroshita (Associate Professor in Disaster Education, Kansai University) in 2018, and was officially launched at the Global Alliance of Disaster Research Institutes (GADRI) in Kyoto on the 12th of March 2019.
The ADN is inspired by Dr. Nibedita S. Ray-Bennett's monograph on Avoidable Deaths: A Soft-Systems Approach to Disaster Risk Management (Springer Nature, 2017). Dr. Nibedita S. Ray-Bennett and Dr. Hideyuki Shiroshita met at Northumbria University's Disaster and Development Centre (DDC) in 2007. Since then, they have collaborated in a number of research projects.
Latest Announcements

10 December – Symposium on Integrating Disaster Risk Management with Emergency Services and Defence to Reduce Avoidable Disaster Deaths will be held.

13 October – International Day for Disaster Reduction.

6 August – ADN's first Organisational Partners Virtual Gathering will be held.

16 June – ADN's Special Session on Reducing Deaths and Injuries from Residential Fire through Human Perspectives was held in collaboration with SharedAim.
---
ADN's Members from Around the World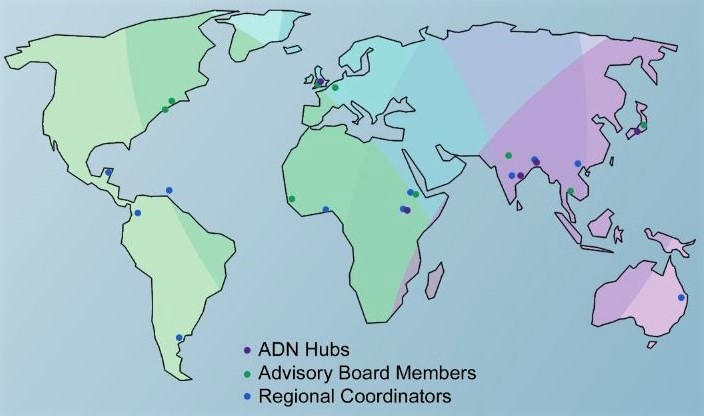 *Please note that the above map is abstract and only representational.