Caribbean COVID-19 Update
By: Krishna Clarke
The Corona Virus or Covid-19 as it is known, is to date, one of the world most widespread pandemics by infection rate in recorded history (Gill and Tilleray, 2020). As of the end of March 2020, there were over 850,000 cases of COVID-19 with over 40,000 deaths worldwide, spanning approximately 203 countries and territories (Worldmeters, 2020).
The tourism industry, one of the largest contributors to GDP among Caribbean countries, will be hard hit by the impact from COVID-19. Caribbean countries, for the purpose of this article, are those that are full members of the Caribbean Community or CARICOM block of states, the exception being that of Bermuda, an associate state which is excluded from the data set (CARICOM, 2020).
Cruise ships are grounded, and travel restrictions result in cancellations for holiday packages. Economic activity will also decline due to less spending on entertainment activities, such as use of bars, restaurants, clubs and upcoming festivals and carnivals. This will put increasing pressure on the already struggling economies of Barbados and Suriname and the hurricane ravaged countries, such as The Bahamas, The British Virgin Islands and Dominica. Barbados with the second highest number of cases will certainly go into recession, especially due their recent credit default in 2018. See Table 1 for the number of cases recorded as of 29 March 2020.
Table 1: Number of cases as at March 29, 2020. Source: World CIA Factbook and individual country statistics.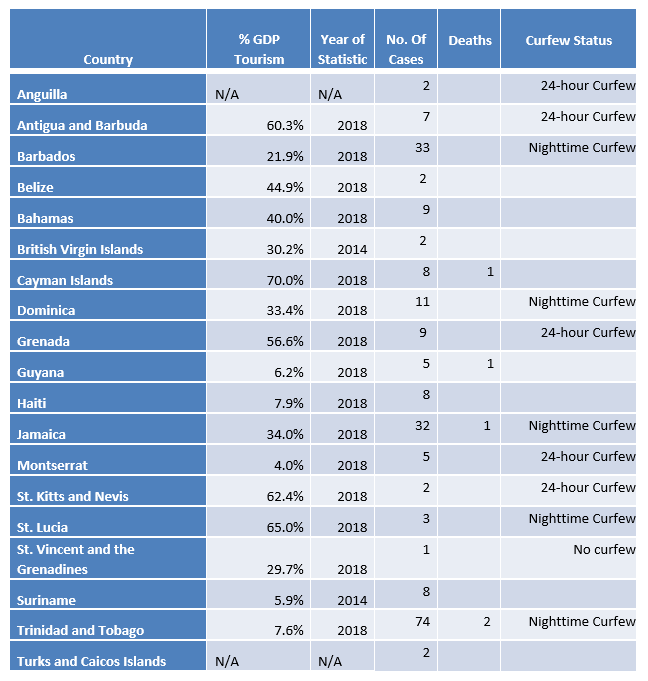 As it stands, almost all cruise ships have been grounded. With travel restrictions imposed by Canada, the United States and the United Kingdom, three of the major tourism source markets, the small island states of the Caribbean could see their economies contracting for 2020. Countries that are highly dependent on tourism receipts will be most affected, such as Antigua and Barbuda, the Cayman Islands and St. Lucia with over 60% contribution to GDP. Please see Table 1 for more information on approximate percentage tourism contributions to GDP.
Commodities also have an impact on certain oil producing nations, such as Trinidad and Tobago, Guyana and Suriname. Both Trinidad and Suriname's economies have been contracting due to much lower oil prices and as a consequence, a reduction in oil receipts from export.
With increasing instances of mandatory shut down of businesses with the exception of essential services, economies in the Caribbean will see a contraction. There are curfews in effect for many islands (see Table 1 for more information). Tourism and Foreign Direct Investments taking a big hit in 2020, will lead to a regional decline in the economy and even a recession (Gill and Tilleray, 2020). Most Caribbean islands are not well diversified or have enough buffers in terms of significant emergency funds to help cope with this pandemic.
Apart from the direct effects to the economies of the Caribbean Community, the health systems also present a significant concern for recovery and mitigation. The major issue lies with testing. Not enough people are being tested here in the Caribbean. The countries also do not have the equipment or even the facilities to conduct testing themselves. For example, St. Vincent and the Grenadines and St. Lucia have to send their samples to Trinidad for testing. St. Vincent only has seven ventilators. The various islands also lack proper quarantine facilities and are only now trying to establish such via preexisting unused government buildings. As the number of person infected increases, the countries are too slow in tracing the persons whom the infected came in contact with. For example, in St. Vincent, patient zero traveled from the United Kingdom to St. Vincent via Barbados. It was not until a little more than a week that Barbados recorded their first official case despite it was a known fact, that St. Vincent's patient was in-transit in Barbados.
Furthermore, the amount of testing currently done is not enough. St. Vincent for example recorded one case and since then, the patient has recovered (St. Lucia News Online, 2020). Statistically speaking, St. Vincent now has zero cases. However, the number of persons tested are only a handful and therefore, there could be others infected that mistake their ailment as the common cold. This flaw could lead to countries having a false sense of security until the number of infected explodes. Given the incubation period of about two weeks, makes this pandemic even more dangerous. The number of persons anyone could come into contact within a two-week period while thinking themselves healthy, could be quite significant. By the time they fall ill, it would be too late and result in transmission indirectly to many other persons.
References:
CARICOM (2020) 'Member States and Associate Members', available online at: https://caricom.org/member-states-and-associate-members/, accessed 28 March, 2020.
Gill, F. and Tilleray, S. (2020) 'Stress Scenario: The Sovereigns Most Vulnerable To A COVID-19-Related Slowdown In Tourism', Standard and Poor's Global Ratings, available at: https://www.spglobal.com/ratings/en/research/articles/200317-stress-scenario-the-sovereigns-most-vulnerable-to-a-covid-19-related-slowdown-in-tourism-11387024, accessed 30 March, 2020.
St. Lucia News Online (2020) 'Saint Vincent and the Grenadines COVID-19-free', St. Lucia News Online, available online at: https://www.stlucianewsonline.com/breaking-news-st-vincent-and-the-grenadines-is-now-covid-19-free/, accessed 29 Mach, 2020.
World CIA Factbook (2020) Country Profiles, available online at: https://www.cia.gov/library/publications/resources/the-world-factbook/, accessed 29 March, 2020.
Worldmeters (2020) 'Covid-19 Coronavirus Pandemic', Available online at: https://www.worldometers.info/coronavirus/, accessed 30 March, 2020.