Drowning Prevention – A Personal Story from my Village Runia, India
By Dr. Nibedita S. Ray-Bennett
The 25th of July is World Drowning Prevention Day.
To highlight the tragic and profound impact of downing on families and communities and offer life-saving solutions to prevent this type of avoidable death, in April 2021 the United Nations General Assembly declared 25 July as World Drowning Prevention Day (WDPD). This is the second year that the member states and stakeholders are celebrating WDPD on 25 July supported by the WHO.
According to the WHO's Factsheet and World Drowning Prevention Day: Guidance of Organizations note drowning is a neglected area of public health and is among the ten leading causes of death for children and young people aged 1-24 years in every region of the world.
According to the WHO 'drowning is the process of experiencing respiratory impairment from submersion/immersion in liquid; outcomes are classified as death, morbidity and no morbidity'. Although the global burden and death from drowning are experienced in all economies and regions, low-and middle-income countries account for over 90% of unintentional drowning deaths worldwide.
The WHO's strapline for this year is 'Anyone can drown, no one should'. This is a powerful statement.
I was born in a rural farming village called Runia in the district of Uttar Dinajpur in West Bengal, India. For the past 20 years, I have been living in the UK.
My village is full of natural and human-made water bodies such as ponds, wells, lakes, ditches and canals. These waterbodies increase the risk of children falling into them or drowning. During the rainy season, they become dangerous.
The topography of my village is similar to many villages in West Bengal including the villages of Bangladesh where I have been conducting research since 2007. Unfortunately, West Bengal carries a high burden of drowning deaths according to a study conducted by the Royal National Lifeboat Institution's (RNLI) International Department.
Funded by RNLI, recently I concluded a research project on 'Climate change and drowning risk in Bangladesh and Tanzania and the implications for RNLI programmes' in collaboration with the University of East Anglia's Water Security Research Centre. During this study, I discovered a family tragedy from my elder brother who lives in the village after the passing of my dear parents, and also in Calcutta where he works.
My late father Mr Kiran Shankar Ray had two elder brothers. The eldest brother was the biological brother, and the middle brother was a foster brother. Three brothers lived close to each other.
My foster uncle's daughter Jhori (11-12 years of age) and my biological uncle's daughter Shukla (9-10 years of age) were best friends. The day the event took place, both girls went to the village pond (about 150 meters from my uncle's house) to take a bath, unsupervised. This pond is notoriously known for its depth. My biological uncle was out in the field for his daily patrol of overseeing the farm-related activities and his wife was busy tending to their newly born youngest daughter. Shukla and Jhori did not know how to swim. They both drowned on that day and the event took place nearly 56 years ago.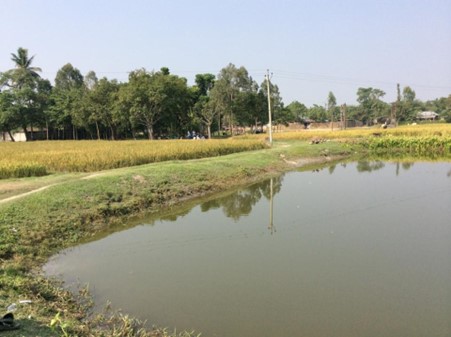 A double tragedy. Multiple injuries. And a trauma so deep that my biological uncle collapsed when the news reached him. Shukla was my father's dearest niece. Three brothers and the entire village grieved and mourned together the loss of two young precious lives. The girls were cremated on open land within 100 meters of all three houses, unlike other cremations that take place on the outskirts of our village. They wanted the remains of the girls to be close to their homestead.
My late parents never told me this story. After learning this story from my brother and my cousin (Shukla's youngest sister), I began to understand the reason why my parents never allowed me to learn to swim in our ponds. Despite this, I attempted to learn to swim secretly albeit with little luck. I learned to swim fully in the UK during my PhD at the University of Warwick's Sports Centre.
I did not learn to swim in my village because of another reason, the snake. If one has grown up or has some exposure to the rural landscapes of South Asia one is never far from a snake. The chance of meeting a snake (human-snake conflict) is very high. I have a serious phobia of snakes. They have swum with me several times and I ran out of the pond several times, consequently. Therefore, snakes have seriously hindered my ability to develop a life-saving skill such as swimming.
The fear of drowning and the fear of getting bitten by snakes are real barriers in the minds of many parents and girl children in my part of the world, and not just a cultural taboo as many would like to say. When the pond water is shallow it is time to learn to swim. This reduces the risk of drowning. But in the summer the pond water is usually very muddy and visually unattractive. We loved playing in the pond when it is filled with fresh water and even better when it rains while we are in the pond. This is also the time it rapidly increases the risk of drowning.
Swimming is a life-saving skill. It is a skill that can be trained or learned at no cost or minimal cost. And yet children in the Indian and Bangladesh villages (or other low-income countries' villages) lack this vital skill. Unfortunately, with no swimming pools in our rural villages, towns and districts, there is no opportunity for children to learn this lifesaving skill.
Therefore, we need swimming pools. But this will require systemic change and can take several years to do so. In the meantime, WHO and collaborating partners can work with national, state, district, sub-district and village level officials, grassroots health workers, schoolteachers, children, parents, and village community groups to raise awareness on drowning prevention strategies. Although I wouldn't advise anybody to learn to swim along with the snakes, if need be, as a last resort, the village community group can identify a specific pond during the summertime and turn it into a water body to learn swimming.
The swimming can be done under the guidance of an instructor or an expert swimmer from the village. There are always a few in any village. The village community group should work with parents to make that pond clean from water algae, hyacinths, and bushes on the edges of a pond where snakes usually hide – among other things. Even better if the village community group can arrange a small honorarium for the instructor. Annual swimming lessons for two weeks can also be included in the curriculum of rural schools. Drowning is largely a rural phenomenon. It is imperative that the challenges of rural areas are addressed by WHO, national and local governmental and non-governmental organisations to prevent this avoidable death.