Regional Coordinator: Professor Deepthi Wickramasinghe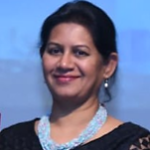 Professor Deepthi Wickramasinghe is a Senior Professor in the Department of Zoology and Environment Sciences, University of Colombo. Previously she held the Head of the Department position and the Co-Director of the Career Guidance Unit at the Faculty of Science.
She is an interdisciplinary human-environment scholar, trained as an ecologist and socio-environmental scientist. Her research areas include biodiversity, ecosystem ecology, climate change adaptations, disaster risk reduction, nature-based solutions, and gender.
Deepthi has co-authored more than a hundred research articles and symposia abstracts, several book chapters, and books. She has over 20 years of extensive experience in carrying out projects on environmental conservation and community outreach. Two projects that she supervised under the Service-Learning Programme at the University of Colombo won UNESCO- Wenhui Award and the Asia Pacific Triple-E Award for promoting university-school partnerships. She has won two prestigious international awards, UN Water- Waterlex Award, and the Women's Sustainability Award in recognition of her work in environmental conservation and sustainable development.