Hybrid Special Session Workshop on Building Capacity of Health Journalists on Reporting Disasters Triggered by Natural Hazards and Human Activities
This page contains the Description, Concept Note, Timetable and Speakers.
Description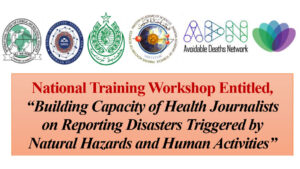 The Special Session hybrid workshop on Building Capacity of Health Journalists on Reporting Disasters Triggered by Natural Hazards and Human Activities took place on Thursday 19th January 2023 at 10:00 – 16:00 PST (Pakistan).
This national training workshop took place at the Latif Ebrahim Jamal National Science Information Center (LJNSIC), International Center for Chemical and Biological Sciences at the University of Karachi. The workshop was organised in collaboration with the International Center for Chemical and Biological Sciences (ICCBS), Sindh Innovation Research, and Education Network (SIREN) and the Pakistan Academy of Sciences (PAS, Sindh Chapter).
This Special Session aimed to:
– Teach health journalists about avoidable deaths and their reasons
– Improve the quality, credibility and relevance of health journalism in Pakistan
– Build the capacity of media persons in term of good quality reporting
– Increase communication between media and health experts
Concept Note and Timetable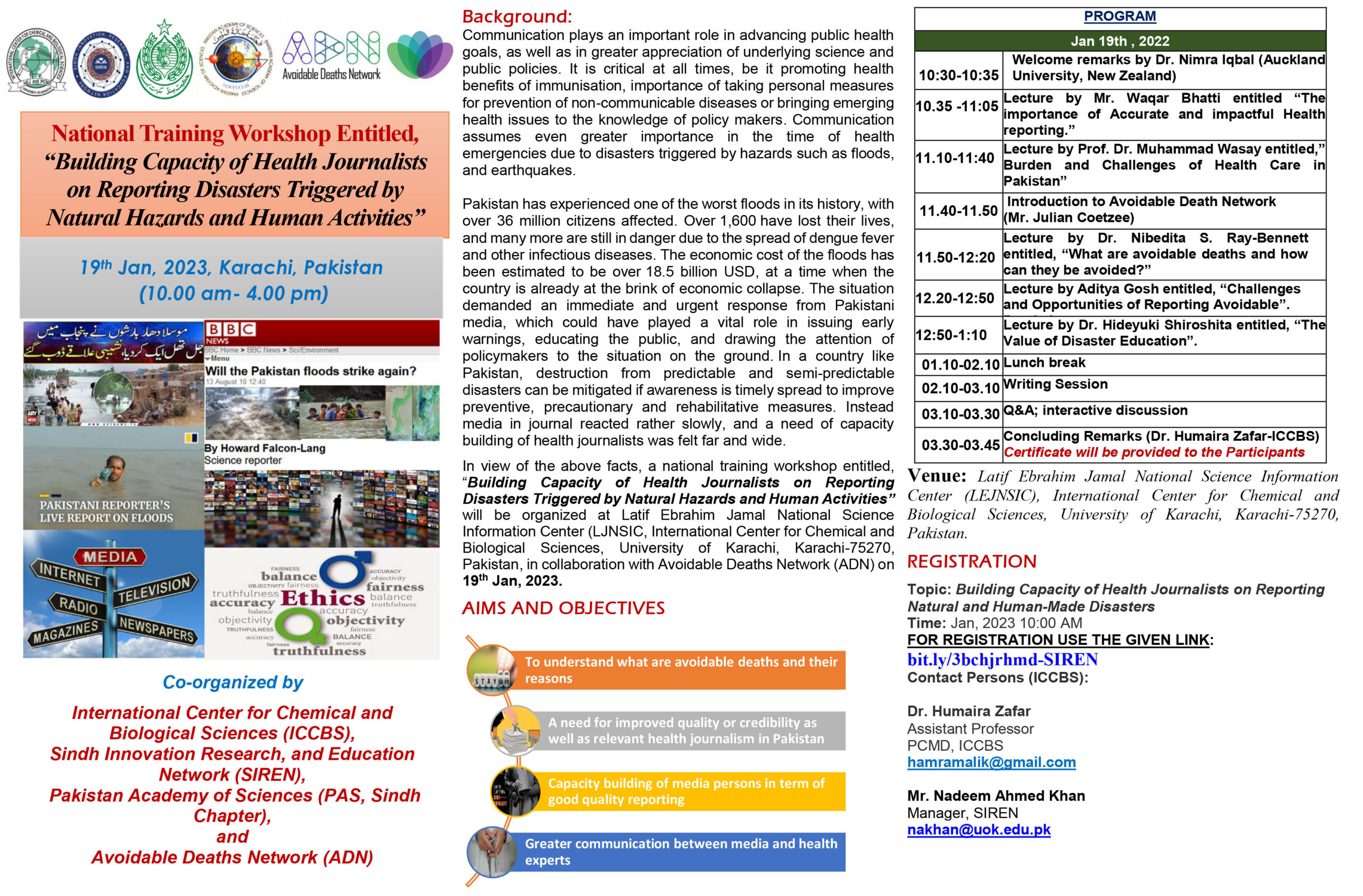 Communication plays an important role in advancing public health goals, as well as in greater appreciation of underlying science and public policies. It is critical at all times, be it promoting health benefits of immunisation, importance of taking personal measures for prevention of non-communicable diseases or bringing emerging health issues to the knowledge of policy makers. Communication assumes even greater importance in the time of health emergencies due to disasters triggered by hazards such as floods, and earthquakes.
Pakistan has experienced one of the worst floods in its history, with over 36 million citizens affected. Over 1,600 have lost their lives, and many more are still in danger due to the spread of dengue fever and other infectious diseases. The economic cost of the floods has been estimated to be over 18.5 billion USD, at a time when the country is already at the brink of economic collapse. The situation demanded an immediate and urgent response from Pakistani media, which could have played a vital role in issuing early warnings, educating the public, and drawing the attention of policymakers to the situation on the ground. In a country like Pakistan, destruction from predictable and semi-predictable disasters can be mitigated if awareness is timely spread to improve preventive, precautionary and rehabilitative measures. Instead media in journal reacted rather slowly, and a need of capacity building of health journalists was felt far and wide.
Speakers Biographies
Speakers included Dr. Mohammad Wasay, Mr. Waqar Bhatti, Dr. Nibedita S. Ray-Bennett, Dr. Hideyuki Shiroshita, Dr. Aditya Gosh and Dr. Nimra Choudhary.