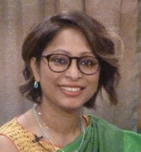 ADN President: Dr. Nibedita S. Ray-Bennett
An Associate Professor in Risk Management, Programme Director, External Examiner and Fellow of the Higher Education Academy. Nibedita joined the University of Leicester in 2012. Before joining Leicester, she had worked at Warwick, Northumbria and Cranfield Universities. Nibedita is a sociologist specialising in disaster risk reduction (DRR) and international development. Her research interests include: caste, class and gender in multiple disasters, micro-finance, health security for disaster resilience, securitisation for disaster risk management, reproductive health in disasters, and theory of justice in disaster risk reduction to avoid deaths. Nibedita is the author of Caste, Class and Gender in Multiple Disasters (2009, VDM Verlag) and Avoidable Deaths (2017, Springer Nature). Nibedita believes that by developing the capacities of actors, organisations and of general public, we can avoid disaster deaths.
For more information, please click here.