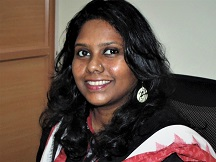 Regional Coordinator: Dr. Madhulika Sahoo (she/her)
Based: India
Dr Madhulika Sahoo is the Managing Editor of ADN, and she will be working closely with Dr Nibedita Ray-Bennet to develop and edit the Handbook on 50 Ways to Reduce Avoidable Disaster Deaths. She will also focus on producing other user-friendly products and publications to raise the visibility of avoidable disaster deaths, nationally and globally. Before taking up the Managing Editor position, Madhulika has been a dedicated Regional Coordinator of ADN India since 2019.
Madhulika Sahoo is an Assistant Professor at the Department of Anthropology, as well as the Director of Student Welfare and a Syndicate Member of Kalahandi University in India. Mahulika has a PhD in Social Anthropology from the National Institute of Technology, Rourkela, India; MA in Refugee Studies from the University of East London, UK; and MA in Anthropology from Savithribi Phule Pune University in Pune, India.
Madhulika's research interests are displacement from disasters and development; migration; reproductive healthcare of indigenous communities; and ethnographic research methods. She is the recipient of the India's Young Researcher Award 2020 and the Best Researcher Publication 2021, VIT-AP University Award. She recently edited the book 'Ethnographic Research in Social Sciences' (2022, Sage).
Follow Madhulika on LinkedIn and ResearchGate.