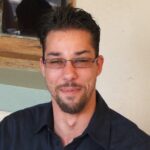 Deputy Operations Coordinator: Mr. Julian Coetzee (he/him)
Based: United Arab Emirates
As the Deputy Operational Coordinator for the ADN; Julian assists the Operation Team with website updates, and social media posts. His adaptability allows him to switch roles quickly and succinctly. Julian loves writing and when opportunity arises, he publishes for the ADN Newsletter and for organisational partners.
With over twenty-five years full time work experience in various career paths including law enforcement, distribution, information technology security and financial services, Julian has built up a wealth of expertise in managing large corporate and SME organisations alike. His current role within the insurance industry enables him to help clients to adopt appropriate risk management strategies as well as transfer their financial risks to contracts of insurance when needed.
Julian completed his MSc in Risk, Crisis and Disaster Management through the University of Leicester under the guidance of Dr Nibedita Ray-Bennett. His research project was entitled 'Complexity Leadership Theory as a systems-thinking approach to Disaster Risk Management'. He also holds the Certified Risk Professional (CMIRM) title from the Institute of Risk Management (IRM).
His academic and professional areas of interest include Leadership, Complexity, Social Systems and High Reliability Organisational Theory. Julian volunteers his time and skills to the Avoidable Deaths Network in the hopes of helping to save the lives of vulnerable individuals by utilising Disaster Risk Reduction, Disaster Risk Management, Sustainable Development and Emergency Response Planning initiatives.
Follow Julian on LinkedIn and ResearchGate.