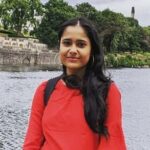 Intern: Ms. Isha Biswas (she/her)
Based: England
Isha is currently coordinating the systematic review component of the systematic review component of the "Sexual and reproductive health services in remote and hard to reach areas of Bangladesh".
Isha graduated from the University of Nottingham, England in 2020 with a merit in Master in Public Health degree. Her research focused on conducting a systematic review to synthesise the risk factors for falls among older adults in India which was recently published in the journal Health Science Reports. She has also worked as a research assistant where her primary role was to conduct systematic reviews (qualitative and quantitative) on yoga and chronic diseases like diabetes, hypertension and obesity. She was also involved in translating and proofreading yoga booklets (English to Odia and Bengali language). She completed her undergraduate (Bachelor in Technology) in Biotechnology from Vellore Institute of Technology, India in 2019. Her final semester thesis involved research on developmental biology of zebrafish.
She is currently pursuing a PhD in Epidemiology and Public Health. Her research is on content, structure and delivery characteristics of yoga interventions for managing osteoarthritis and rheumatoid arthritis (systematic reviews) along with a qualitative interview study with yoga providers in the UK. Isha's primary interests include systematic reviews, meta analysis, public health, chronic diseases and neglected tropical diseases.