Special Session Webinar Series on Women's Stories of Survival, Innovation, Resilience and Development
Description
The Avoidable Deaths Network (ADN) and the Institute for Environmental Futures in collaboration with Auckland University of Technology's Bringing Research into International Development and Global Equity (BRIDGE) Network, South Asia Alliance of Disaster Research Institutes (SAADRI) – Sri Lanka Chapter led by the University of Colombo, University of Leicester's School of Business and Women Inspiration Network and the New Vision University are organizing four webinars to capture women's stories of survival, innovation, resilience and sustainability in exceptional circumstances such as political crisis, climate-related disasters, human-induced resource scarcity (among others).
These joint Special Session Webinars are knowledge exchange public engagement activities. Therefore, registration for all four webinars is open to everyone. Our first Webinar will be launched on the 8th of March on International Women's Day. We hope you will join us.
Details of the four Special Session Webinars are as follows:
8 March 2023
Between Hope and Fear: Afghan Women and Girls in Political Transition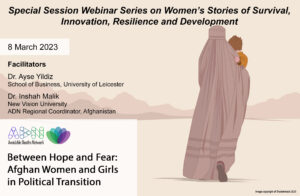 This Special Session was facilitated by Dr. Ayse Yildiz (School of Business, University of Leicester) and Dr. Inshah Malik (New Vision University and ADN-Regional Coordinator, Afghanistan).
For more information, please click here.
---
31 May 2023
Stories of Resource Scarcity, Security and Sustainability of South Asian Women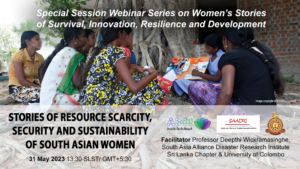 This Special Session was organised by Professor Deepthi Wickramasinghe (SAADRI – Sri Lanka Chapter, University of Colombo).
For more information, please click here.
---
7 July 2023
Reducing Avoidable Baby and Women's Deaths Through Improved Rights and Ecosystem for Breastfeeding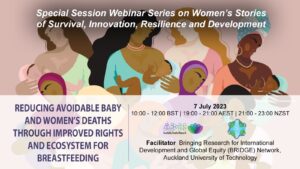 This Special Session was organised by Dr. Sari Andajani and Dr. Eilidh Thorburn (BRIDGE Network, Auckland University of Technology).
For more information, please click here.
---
13 October 2023
Women's Stories of Enterprise, Empowerment and Sustainability.
This Special Session has been cancelled.
---