ADN's Special Session on International Snakebite Awareness Day: Challenges and Opportunities to Reduce Avoidable Snakebite Deaths in Odisha/ India
This page contains the Description, Concept Note, Timetable, Speakers, Chairs and Moderators, Impact, Q&A, Photos and Press.
Description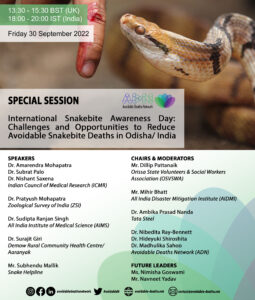 On the International Snakebite Awareness Day (ISBAD), 19 September 2022, the ADN India Hub planned to hold a Special Session in Bhubaneswar in Odisha, India. However, the University of Leicester and Avoidable Deaths Network joined the nation in mourning the death of Her Majesty Queen Elizabeth II.
The Special Session on International Snakebite Awareness Day: Challenges and Opportunities to Reduce Avoidable Snakebite Deaths in Odisha/ India was rescheduled. This event took place on Friday 30 September at the same time.
This Special Session focused on the burden of snakebites, prevention measures to avoid snakebite deaths, and the future of snakes and avoidable snakebite deaths in the context of climate change and climate-related natural hazards in India.
The Special Session was facilitated by the ADN India Hub lead, Mr. Dillip Pattanaik, the Executive Director of Orissa State Volunteers Social Worker's Association (OSVSWA). Session moderators included Dr. Ambika Prasad Nanda, Head of Corporate Social Responsibility (CSR) of Tata Steel; ADN Presidents Dr. Nibedita Ray-Bennett and Dr. Hideyuki Shiroshita; and ADN Editorial Manager, Dr. Madhulika Sahoo.
The Special Session was delivered in a hybrid format on Friday 30 September, Monday at 18:00 – 20:00 (IST), 13:30 – 15:30 (BST). Participants attended the Special Session via Zoom or in person at the ADN Hub India in Bhubaneswar.
Event Hashtags: #ISBAD #Snakebite22 #Snakebite
---
Concept Note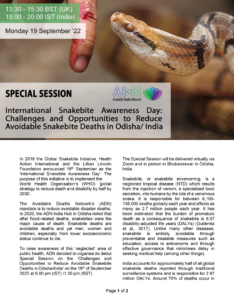 For more information on this Special Session, please read our concept note via the link below:
Concept Note – Special Session on International Snakebite Awareness Day
---
Timetable
| | |
| --- | --- |
| Session Title | Speaker |
| Housekeeping and Welcome Speech | Mr Dillip Pattanaik (OSVSWA) |
| Introducing ADN and Avoidable Snakebite Deaths in Odisha | Dr Nibedita Ray-Bennett |
| A novel model in snake bite management from a rural community health centre of Assam, North East India: Impact on morbidity and mortality | Dr Surajit Giri (Demow Rural Community Health Centre) |
| Reducing the burden of snakebite deaths in Odisha: AIIMS approach through science and social science methods | Dr Sudipta Ranjan Singh (AIIMS-Bhubaneswar) |
| Five ways to prevent snakebites in Odisha: ICMR's approach | Dr Amarendra Mohapatra & Dr Subrat Palo (ICMR-RC) |
| Traditional healing practices for snakebites in Saharia tribe of Madhya Pradesh, India | Dr Nishant Saxena (ICMR-NIRTH, Jabalpur) |
| Voices from the frontline | Mr Subhendu Mallik (Snake Helpline) |
| Causes and circumstances of snakebite deaths in Ganjam district in Odisha | Ms Nimisha Goswami (ADN Future Leader & University of Leicester) |
| Seven steps to prevent snakebites | Mr Arkoneil Ghosh (ADN Junior Champion Intern for Special Sessions) |
| sPLA2 Inhibition for the Treatment of Snakebite Envenoming | Dr Matthew Lewin and Dr Stephen Samuel (Ophirex) |
| Closing Ceremony | Dr Hideyuki Shiroshita & Mr Dillip Pattanaik & Dr Ambika Prasad Nanda |
---
Speakers
Panel:
Dr. Amarendra Mohapatra – Indian Council of Medical Research (ICMR)
Dr. Mahapatra is a Medical Anthropologist within the Head Epidemiology Division at the Indian Council of Medical Research, Bhubaneswar. In addition to Snake Bite Epidemiology, Amarendra works in the field of Epidemiology of Tuberculosis, Malaria, Filariasis and Nutrition. His goal is to achieve the targets of the National Health Programmes at a faster rate in the interest of the State.
Dr. Subrat Kumar Palo – Indian Council of Medical Research (ICMR)
Dr. Palo is a Scientist at the Indian Council of Medical Research, Bhubaneswar. His areas of work include Epidemiology, Public Health, Maternal Health and Nutrition.
Dr. Nishant Saxena – Indian Council of Medical Research – National Institute of Research in Tribal Health (ICMR-NIRTH)
Dr. Nishant Saxena is a Scientist at the Indian Council of Medical Research – National Institute of Research in Tribal Health, Jabalpur, India (ICMR-NIRTH Jabalpur). His present research focus is on connecting tribal traditional healer and their practices with the public health system in India. He is a Member of IUAES Commission on Medical Anthropology and Epidemiology and served as an Evaluator of NRDC National Awards 2019 and NRDC-TVDC Programme, 2021-22. Dr. Saxena has contributed on a range of issues of anthropological relevance through participation in academic discourse like conferences, seminars, etc. and through numerous publications in peer reviewed journals with notable ones being in the journal The Lancet (2020 & 2022).
Dr. Sudipta Ranjan Singh – All India Institute of Medical Sciences (AIMS)
Dr Singh is an Additional Professor at All India Institute of Medical Sciences (AIIMS) Bhubaneswar in the Department of Forensic Medicine and Toxicology. Dr Singh's research focuses on human-snake conflict, Forensic Toxicology, Pathological Autopsy, Cadaveric Organ Retrieval and Crime Scene Reconstruction and Death Investigation.
Dr. Surajit Giri – Demow Rural Community Health Centre and Aaranyak
Dr Giri is a Consultant Anaesthesiologist with positions at the National Health Mission and Demow Rural Community Health Centre, India. Working towards a goal of zero deaths from snakebites in Assam, Dr Surajit Giri has treated 1,000 snakebite victims and promotes public awareness of snakebite management.
Mr. Subhendu Mallik – Snake Helpline
Mr. Mallik is the General Secretary at Snake Helpline, a voluntary organization of the state of Odisha in the field of snake rescue and rehabilitation. He is a Social Worker and Wildlife Activist.
Dr. Matthew Lewin – Ophirex
Dr. Lewin is a recognized expert in expedition and field medicine, with emergency medicine board certification and a PhD in the field of neurophysiology. He is an elected fellow of the California Academy of Sciences, a fellow of the American College of Emergency Physicians, a National fellow of the Explorers Club, a member of the Board of the North American Society of Toxinology, and serves on the WHO's Snakebite Envenoming Working Group Antidotes Committee. He earned his MD and PhD at the University of Texas/MD Anderson Cancer Center Graduate School of Biomedical Sciences (Distinguished Alumnus award, 2020) and his BSc degree at the University of California, Berkeley.
Dr. Stephen Samuel – Ophirex
Dr. Samuel is the Vice President of Clinical Affairs at Ophirex, a public benefit corporation focused on global health. A Registrar in General Medicine, Queen Elizabeth Hospital, Kings Lynn, UK. He has been collaborating with Dr. Mathew Lewin, since 2013 in developing field antidotes for snake envenomation. A visiting physician to TCR Multispeciality Hospital, Krishnagiri, India, Dr. Samuel is treating snake envenomation along with snakebite expert Dr. Soundara Raj MD, Director of the hospital. Additionally, Dr. Samuel is collaborating with Dr Sakthivel Vaiyapuri PhD, Associate Professor, University of Reading in creating snakebite awareness among villages and students in southern India.
Future Leaders:
Ms. Nimisha Goswami – University of Leicester
Nimisha Goswami is as Public health specialist in the India liaison office of the University of Manitoba, Winnipeg, Canada. Nimisha looks after various maternal health and gender-related projects in India and Africa. She also supports the Avoidable Deaths Network (ADN) on global projects and events. With over 12 years of experience in public health, she has worked for organizations such as the International Planned Parenthood Federation (IPPF), the American India Foundation and the Ministry of Health in India. She holds an MA in Social Work from the Tata Institute of Social Sciences. Funded by the Commonwealth Scholarship Commission in the UK, Nimisha is pursuing her MSc in Risk Crisis and Disaster Management at the University of Leicester (UK).
Mr. Arkoneil Ghosh – Avoidable Deaths Network
Arkoneil Ghosh, a 13-year-old student from Mumbai, India, attends Jamnabai Narsee International School. He has been a Junior Champion with ADN since 2020 and has been regularly contributing articles to raise awareness in society about sanitation, education, and pollution. He has been working as an intern, raising awareness about drowning deaths since June 2022. During this time, he researched the topics of snakebites and drowning and conducted interviews with people from various countries around the world to better understand the risk of drowning deaths. He is a polyglot and an avid coder. He can think and communicate in English, Hindi, Bengali, Mandarin, Spanish, Marathi, and Japanese, though only at a basic level. When he is not studying, Arkoneil enjoys reading detective and crime novels. He firmly believes that in order to change the world, one must first change one's attitude.
---
Chairs and Moderators
ADN Hub India:
Mr. Dillip Pattanaik – Orissa State Volunteers and Social Workers Association (OSVSWA)
Dr. Ambika Prasad Nanda – Tata Steel
ADN Operations:
Dr. Nibedita Ray-Bennett – President, Avoidable Deaths Network
Dr. Hideyuki Shiroshita – President, Avoidable Deaths Network
Dr. Madhulika Sahoo – Editorial Manager, Avoidable Deaths Network
---
YouTube
---
Impact
Please find below some of the positive comments shared by speakers and participants.
Speakers:
'Fascinating and Informative session' – Dr. Samuel
'It was a very enriching session for me personally and has lead to brooding more about the challenging task of reducing the snakebite deaths. thanks to all' – Dr. Saxena
'This has been very inspiring and I feel humbled to be able to present our work with Dr. Stephen' – Dr. Lewin
'Very insightful session Dr Nishant! Thanks a lot. Useful for my study as well' – Ms. Goswami
Participants:
'This is the inclusive model making use of the resources and expertise of the villagers too' – Participant 1
'That is very useful information' – Participant 1
'This is a beautiful panel' – Participant 1
'Amazing work! it just proves you do not need fancy equipment to save lives. knowledge and compassion are the true driving force' – Participant 2
'This is amazingly groundbreaking' – Participant 2
'Thank you Sir, very important information has been shared' – Participant 3
'Thanks a lot for these interesting lectures – I did not know so much about the traditional tribal healers – but only can support the idea to include them in treatment measures as they are mostly the first responders as said' – Participant 4
'This has been a superbly informative session! Sincere thanks to the organizers and the speakers!' – Participant 5
Poll: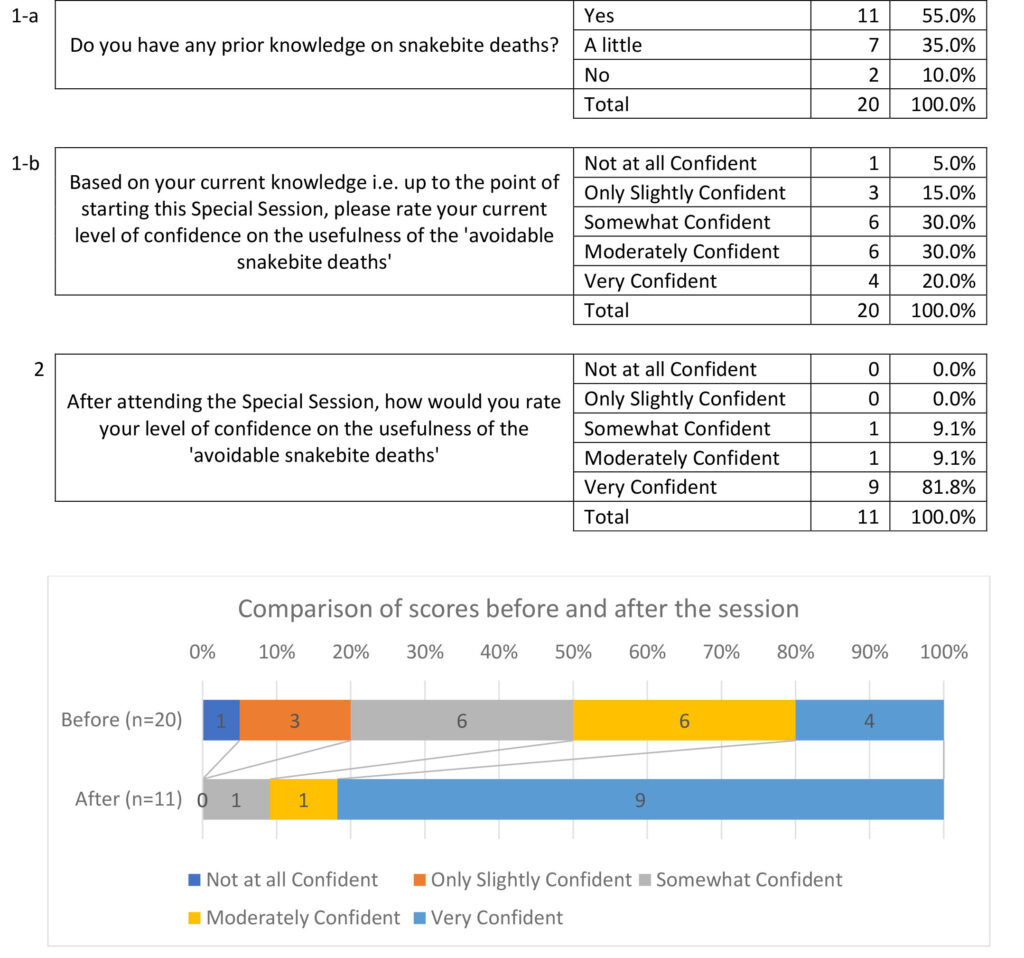 ---
Question and Answer
Due to time constrains, the following questions were unanswered during the Special Session. Please find the answers to the remaining questions below.
Do we have any traditional practitioners or snake specialists from the rural or tribal regions? It is essential to hear what snakes represent in many indigenous societies. What is the traditional knowledge system? How is it challenged by science and medicine? What way we can combine the two?
'Yes, there are traditional healers, especially in tribal areas of India, providing care for snakebite using their traditional knowledge and wisdom. Tribes have their own ways of construing snakes and snakebites. The traditional knowledge system is varied and vast. However, there is need to look at the confluence of science and culture in low resource settings, like the tribal hinterlands of India' – Dr Nishant Saxena (ICMR-NIRTH, Jabalpur)

Most of the death is done in the rural part due to delay in reaching the facility. Is there any strategy to reduce get the medication at village level?
'The vision for oral snakebite envenoming drugs is to bring them as close as possible to the time of the snakebite. Currently we are testing them in the hospital because they have never been tested previously for snakebite even though they've been tested for other types of illnesses. Our ultimate vision is that every person should have access to these medications immediately following a snakebite so they can get to definitive medical care in the best clinical condition possible. The attributes of such a drug should likely include of course being safe even if the diagnosis of snakebite is incorrect. Similarly the drug should have broad spectrum coverage of the toxin target. It should be stable in hot/humid conditions and of course it should be easy to administer. Such that a minimally trained or lay person should be able to give it without fear and it should be inexpensive to make so that everybody has access to it' – Dr Matthew Lewin (Ophirex)

Living in the deepest jungle, how the Saharias have become landless?
'This indigenous/tribal group "used" to live in deepest jungle. It used to be a hunter-gatherer tribal group. The very deep forests were converted into agricultural land by other dominant groups who gradually acquired the land. Simultaneously, this tribal group was also affected by the assimilation and integration programs of the government and started living in village hamlets which are now known as "Sehrana". Saharias becoming landless and bonded labours has deep rooted casteism associated with it' – Dr Sudipta Ranjan Singh (AIIMS-Bhubaneswar)

As Dr. Singh mentioned that junior doctors are present in the remote places and experts are in the capital cities. What if there is a network failure in the remote area or there is no technological advancement at all in those places? Does it mean they shall go without expert treatment or are left to the wisdom of the Junior doctors (who are gaining experience)?
– 'As far as the network of healthcare facilities for snakebite is concerned, the preliminary snakebite management facilities are mostly present at the CHC level while the experts extend services at District Hospitals. It is indeed a challenge to transfer patients from remote areas to District Hospitals in times of dire need. Thus, it is of utmost importance to bridge this gap for the benefit of public health' – Dr Nishant Saxena (ICMR-NIRTH, Jabalpur)
– 'Sir, as of now the training to all the MOs and health care staff is so robust that they can identify the type of snake bite primary care and refer it to the tertiary care hospital if need arises as most the bites can be managed by the local health care. If needed they can be trained by the experts periodically. Dr Dayal Bandhu is the national expert on snake bite' – Dr Amarendra Mohapatra & Dr Subrat Palo (ICMR-RC)
– 'The primary health Centres are set at the rural and the remote areas and have limited resources and usually manned by young doctors with sparse exceptions. Unfortunately snakebites are also common in these areas. Though most cases could be managed without ventilator support and advance medical gadgets, these deficiencies lead to consequential lack of confidence amongst such young clinicians. Further there difficulties of referrals transport, local pressure and many more factors which are real challenges in these peripheral set ups. Yes technologically advancement are limited in these rural, hilly and tribal areas but one thing good about is many areas now have mobile networks. By use of this networks there are endeavours from us to boost confidence, aid in morphological identification of the snake, guidance by senior colleagues and much more. This is not the only Redressal method nor substitute to existing referrals system or telephonic guidance from headquarters etc but an adjunct to improve the care at remote' – Dr Sudipta Ranjan Singh (AIIMS-Bhubaneswar)
– 'True. We have submitted to Government: At final yr of MBBS, there should be a class on local venomous snakes and its treatment. So that once they pass out, they should be confident enough to handle snake bite victims. Being a Doctor in a community health centre, I strongly believe that WE can manage snake bite victims at community level itself without any sophisticated gadgets if we can REDUCE the bite to hospital admission time. HIT hard at early symptoms by following snakebite severity score(SSC) etc. Hope we all will achieve the same soon in near future. Thanks' – Dr Surajit Giri (Demow Rural Community Health Centre)
– 'Agree… Sophisticated gadgets are required only in few cases. Early institution of treatment is the key. The requirements are boosting confidence by training and support when required' – Dr Sudipta Ranjan Singh (AIIMS-Bhubaneswar)
---
Photos
---
Future Leader's Poster
Arkoneil Ghosh
---
Press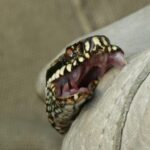 Odisha Carries a Huge Burden of Snakebite Deaths — But it is Avoidable
By Dr. Nibedita Ray-Bennett and Dr. Madhulika Sahoo
Down To Earth
Click here to read the article.