ADN Hub India Advisor: Ms. Nimisha Goswami (she/her)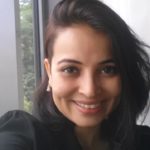 Based: India
As the India Hub Advisor, Nimisha is responsible for partnership building, exploring grant making opportunities and advising the ADN Presidents on current projects globally. She supports the Operation Team with communication and dissemination of information on various events, projects and publications.
With over 12 years of experience in public health, primarily in HIV, gender and sexual health, and humanitarian response, Nimisha Goswami brings extensive experience in managing and advising programmes in development and humanitarian settings (natural and conflict). Her core areas of work are programme and grant management, advocacy, gender mainstreaming, policy analysis, community development, advocacy, and research; working with the government and civil society at the national, state and district level.
She holds MA in Social Work from the Tata Institute of Social Sciences, specialising in Disaster Management and Community health. Funded by the Commonwealth Scholarship Commission in the UK, Nimisha is currently pursuing her MSc in Risk Crisis and Disaster Management at the University of Leicester (UK).
Follow Nimisha on LinkedIn and ResearchGate.