Description
We are launching the Junior Champion Magazine at 10:30 IST in Jubasanskara Hall, Kalahandi University, Odisha.
The Junior Champion Magazine is led by our Junior Champions Arkoneil Ghosh and Prarthona Datta. They will feature the voices of the children and of those primarily on the frontline bearing the brunt of climate change and extreme weather events every day.
The first issue 's theme is listening to children's experiences in the latest floods in India. This Issue will capture the first-hand experiences of floods through the eyes and minds of children and youths between 10 and 17 years.
The launch event will be hosted by Dr. Madhulika Sahoo, Director of Student Welfare at Kalahandi University and Editorial Manager at ADN.
The event will feature Prof. Sanjay Kumar Satapathy (Vice Chancellor, Kalahandi University), Dr. Nibedita S. Ray-Bennett, Dr. Hideyuki Shiroshita (Presidents, ADN), Dr. Nibedita Nath (CGPC and Associate Professor, Kalahandi University), Sri Pitambar Boi (Registrar, Kalahandi University), Master Arkoneil Ghosh (Editor, ADN Junior Champion Magazine) and Ms. Lauren Macleod (Activity Coordinator, ADN).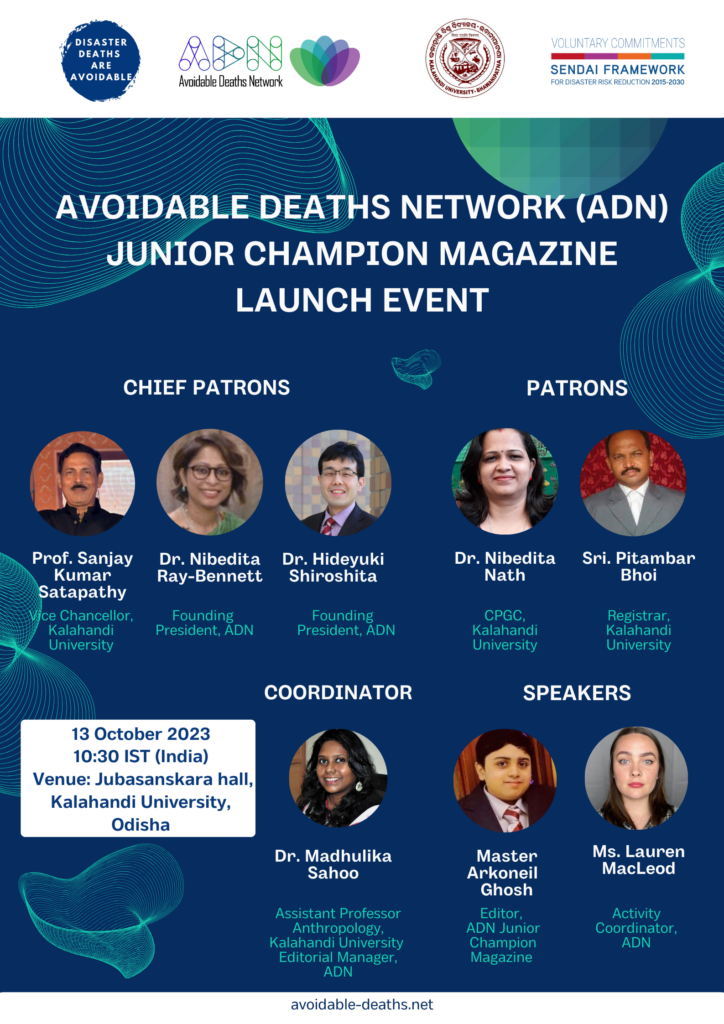 ---
Registration