DESCRIPTION
Full Title: Prototyping Facility and Crisis Reproductive Health Kits in Bangladesh
Short Title: Prototyping RH Kits
Duration: September 2023 to July 2024
Funder: Economic and Social Research Council Impact Acceleration Account (ESRC IAA – ES/X004732/1)
Core Team: Dr. Nibedita Ray-Bennett (PI), University of Leicester; Dr. Elvina Mustary, Reproductive Health Services Training and Education Programme (RHSTEP); Mr. Maqbul Bhuiyan, Data Management Aid (DMA); Dr. Manjur Hossain, Directorate General of Family Planning (DGFP), Government of Bangladesh.
Support Members: Dr. Te Klangnoonkrong and Ms. Lauren MacLeod.
Objectives
To prototype the Facility and Crisis RH Kits: Through evidence-based research and consultation with technical experts in Bangladesh and beyond, we will determine the number of i. women that each Kit can serve; ii. medicines and supplies/ equipment required per Kit; and iii. Kits each facility could potentially require in disaster-prone areas.
To develop a Toolkit: We will develop instruction guidelines for service providers to administer the Kits (aka Toolkit) in Bangla and English.
To seek approval: We will present the prototypes to the Ministry of Health and Family Welfare, Government of Bangladesh and seek approval.
To explore commercial viability: We will develop a roadmap to commercialise the prototypes and develop a sustainable financial model.
Facility and RH Kits
The Facility and Crisis RH Kits are designed for treating incomplete abortion, including septic and spontaneous abortion and post-abortion care complications (before and after 12 weeks of missed period of menstruation). These Kits are tailored and contain medicines, supplies and equipment that can be procured locally; thus, keeping the costs low without compromising the quality and efficiency of care.
The Facility RH Kit is designed to be positioned easily at flood or cyclone-prone primary/secondary health facilities and where services are lacking to promote disaster readiness. They can also develop the capacity of service providers along with health facilities.
The Crisis RH Kit is designed to be lightweight so that service providers can carry it to an emergency set-up (e.g., flood-cum-cyclone shelters, safe homes, refugee camps or any temporary disaster camps).
Outcome
The potential outcome of this project (although not limited to) are:
Increase in the provision and continuity of reproductive health services during disasters and crises in resource-poor settings of developing countries.
Remarkably contribute to the reduction of maternal and neonatal mortality and morbidity during disasters and humanitarian crises.
Contribute towards the UN's Minimum Initial Service Package (MISP), the Sphere Minimum Standards in Disaster Response, the SDG 3: target 5.6 and the Sendai Goal A and Priority for Action 4.
Context
The proposed project continues from a legacy project, which has gone through four different phases.
First Phase (2015 – 2018): Funded by International Planned Parenthood Federation's (IPPF) Innovation Fund, Dr Nibedita Ray-Bennett in collaboration with her project partners developed and tested an evidence-based intervention packagecalled RHCC (Reproductive Health (RH) Kit 8 of UNFPA, Capacity building, Community awareness) to improve the quality and availability of reproductive care during a major flood in Bangladesh.
Second Phase (2019 – 2020): funded by ESRC IAA Large Rapid Response Scheme, Dr Nibedita Ray-Bennett and her collaborators developed a strategy on how to replace the UNFPA's RH Kit 8 and make RHCC cost-effective.
To learn more about this project please click this link:
Third Phase (2020 – 2021): funded by IPPF's Regional Fund, Dr Nibedita Ray-Bennett and her collaborators developed an evidence-based protocol for two low-budget Kits named Facility and Crisis RH Kits.
Fourth Phase (2021): funded by IPPF's Humanitarian Hub, the PI began prototyping the Facility and Crisis RH Kits for Afghanistan. The fund was withdrawn by IPPF due to the political crisis in Afghanistan.
---
Project Updates
4 September 2023: All collaborators met to launch the project and develop a plan of action month by month to meet the project targets.
13 October 2023: The research team welcomed three new ADN Operation Members to discuss the sampling strategy for this study. This included Dr Winifred Ekezie,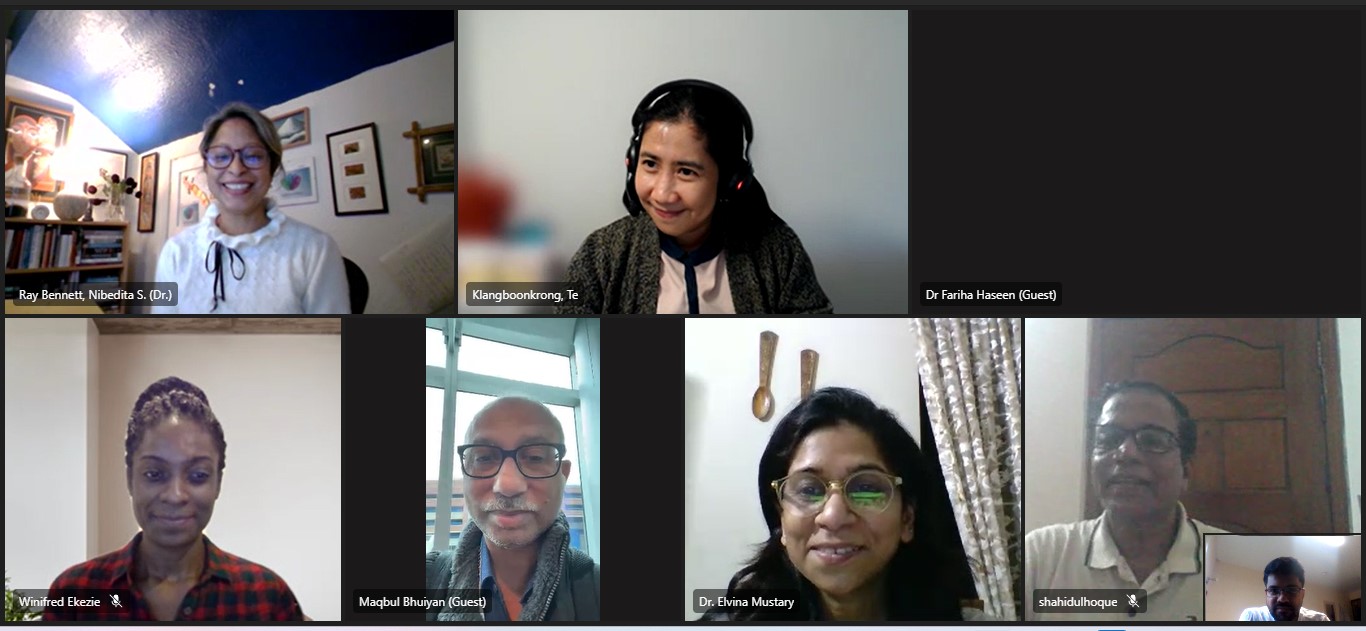 Lasith Dissanayaka, and Shahid Hoque. Furthermore, the research team was excited to welcome back Dr Fariha Hassen who had collaborated with Dr Nibedita Ray-Bennett in the development of the protocol for the Facility and Crisis Reproductive Health Kit. To determine the content of the kits, the research team has decided to base this on evidence from the district of Cox Bazar in Bangladesh.