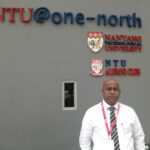 Regional Coordinator: Mr. K.G. Mahendra Jagath
Mr. Jagath is an Assistant Director at the Emergency Operation Division of the Disaster Management Center (DMC) in Colombo in Sri Lanka.
He has a post-graduate diploma in disaster management from the University of Peradeniya and a master's degree in Regional development & planning from the University of Colombo.
Mr. Jagath's research interests are displacement management & resettlement. He is also involved in policy programming for internally displaced populations in Sri Lanka.