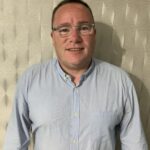 Intern: Mr. David Cowie (he/him)
Based: Aberdeen, Scotland
As an intern for the ADN, David assists the Operation Team with any tasks he is asked to complete. He is eager to learn and contribute to the team and has immersed himself in the role.
With over eighteen years full time work experience in a policing role, David has built up a wealth of insight in the partnership, civil contingences, emergency response and preparedness fields. His current role as the Sergeant within the Energy Industry Liaison Unit (EILU) means he provides a key role in an emergency response capacity through participating in a significant testing and exercising regime. David take great pride in the fact that he chairs the Emergency Preparedness Offshore Liaison (EPOL) Group meeting on behalf of the energy industry, with a real focus on people.
David recently completed a paper with the Scottish Institute of Policing Research (SIPR) which focuses on the potential effects on emergency preparedness and police response to offshore energy incidents on the UK continental shelf as a consequence of the transition from oil and gas to alternative energy sources. David is now studying to obtain an MSc in Risk, Crisis and Disaster Management through the University of Leicester under the guidance of Dr Nibedita Ray-Bennett.
David feels privileged to be part of the Avoidable Deaths Network and volunteers his time and skills in order to contribute to a rebalance of equality including gender, health and livelihood. David is currently working as an intern on the ADN project – Sexual and Reproductive Health Services in Remote and Hard to Reach (H2R) Areas of Bangladesh.
Follow David on LinkedIn