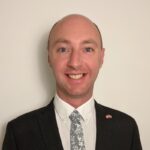 ADN Administrative Coordinator: Alex Skinner
Alex is a British diplomat currently posted to Copenhagen, Denmark, where he focuses on communications and climate change, including UK-Denmark collaboration on COP26. He has an MSc in Risk, Crisis and Disaster Management from the University of Leicester, and wrote his dissertation on intergovernmental coordination in international crisis response.
Alex has led international crisis response teams in information management, planning, and consular assistance at the UK Foreign, Commonwealth and Development Office and at Global Affairs Canada. This included on Caribbean hurricanes, terrorist attacks in Europe, major aviation incidents and COVID-19. When not responding to crises, he delivered crisis training and exercises at Embassies in the Middle East and North Africa, represented government in military exercises, and developed emergency management policy.
Alex is fluent in French and Spanish.