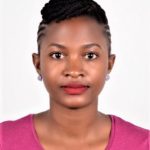 ADN Production Coordinator: Ms. Racheal Nantume (she/her)
Based: Uganda
As a Production Coordinator, Rachael assists Dr Nibedita Ray-Bennett with drafting and developing the ADN Bulletins, Annual Newsletter and Annual Report. Rachael also produces social media content and provides supports for event management.
A trained civil engineer with experience in contract and project management, design, construction supervision and maintenance of buildings, roads, bridges and structures. Rachael has BA from Makerere University, Uganda. Funded by Commonwealth Scholarship Commission in the UK, she is pursuing her MSc in Risk, Crisis and Disaster Management at the University of Leicester, with the goal of contributing to making communities more resilient and sustainable especially in the current climate change environment. Racheal's research focuses on Drowning Risk in Uganda.
Follow Racheal on LinkedIn.